Vicker Pony Farm Herd Dispersal Sale
Due to Isabelle's death, January 19th, and my poor health we are forced to sell the pony business after 30 years of fun.
Tack and Equipment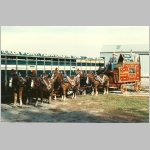 Pony parade circus wagon with music and custom made cover. Originated from Ray Lansing of Madrid Iowa. Real nice. One of a kind.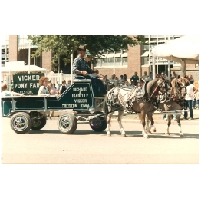 Parade and Show wagon with rubber tires and automotive paint. Made by Neal Sesker of Cambridge Iowa.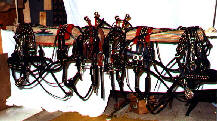 3 sets fancy draft parade harness. Lots of silver spots. 3 strap britchens. Hame housers. Bucksten bits. Hand made by Ray Kammin of Story City Iowa.
Horse size buggy tongue. Several 15" and 16" colors. Several draft horse neck yokes and double trees. Miscellaneous items.
Section A Welsh Ponies.

(up to 50 inches high – 12-2 hands)

4 – 2 year old fillies. Broke to ride.

4 – 3 year olds. 1 gelding, 3 fillies. Broke to ride.

6 – broodmares. Age 7 to 21 years old. Pasture bred May 21 2005 to October 24 2005. Due to start foaling April 26 2006

1 – 14 year old mare. Broke to ride.

2 – Gelding full brothers. 15 and 16 years old. Broke to ride and drive.

1 – 18 year old mare. Broke to ride.

2 – 20 year old geldings. Broke to drive and driven in parades.

1 – 23 year old mare. Broke to ride.

1 – 22 year old stallion. Our herd sire.

PDF with copies of all of the registrations (19MB) Updated 05/2006 with sale order numbers.


Where:
Creston Livestock Auction
201 N Cherry St
Creston, IA 50801
Phone: 641-782-7025
Auctioneers: Tom Frey & Darwin West
Clerks: June West, Doris Hood, & Leisa Frey
When:
12 noon
June 3rd 2006
Viewing:
Starts after 8 am. 6/3/2006
No viewing 6/2/2006, unless you want to work
moving stock and tack to the sale barn.
Restaurants:

The sale barn has a permanent
restaurant that will be open.

Other restaurants are available
in Creston: McDonald's, Hardee's,
Subway, Creston Family Restaurant,
Windrow Cafe, A & G Pizza and Steak House
and others.
Restrooms:
The sale barn has permanent restrooms available
Motels:
Creston Super 8
804 West Taylor
Creston, Ia 50801
641-782-6541
800-800-8000

The auction will be viewable on the Internet via the link on Creston Livestock Auction's web site.
To bid over the Internet you will have to register at least 24 hours before the sale.


Sale Conditions:
All announcements sale day takes precedence and replace any prior announcements.
Any one wishing the registration transfered for the ponies they purchase will need to have their details (new owner/farm name...) ready as the transfers will be completed by the sale clerks at the time of settlement. The buyer will be required to pay the Welsh Pony and Cob Society transfer fee which will be collected as a separate check by the sale clerks.
A photo copy of the registration(s) will be provided to the buyers at the time of settlement.
This spring's foals will be sold with their Dam as a package. Breading certificates will be provided. Buyer will be responsible for registration of the foal if they want it to be registered.
Iowa requires sales tax on all equine sales except Draft Horses. Therefore, 7% sales tax will be added for all ponies sold.
All adult ponies will be Coggins tested ahead of the sale day.
Good check w/ photo if not known by auction company.
Nothing removed until settled for.
Not responsible in case of accident or theft.

Mail:
Richard Vicker
1333 Hwy. 25
Creston Ia. 50801
Phone: 641-782-2004


Request more information on Vicker Ponies
All contents and photos are copyrighted © 1996-2010 by Roger Vicker and may not be re-distributed or re-used without permission.