Richard Vicker inducted into the Iowa Draft Pony Hitch Association Hall of Fame.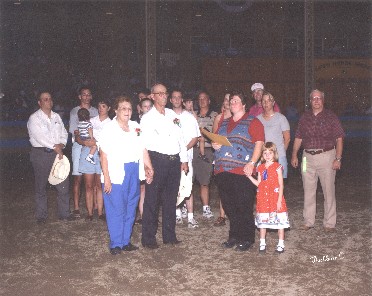 By July 4th, 1975 Richard had acquired 4 ponies and a small 4 wheel cart. With the help of sons Ron, Rod and Roger and 3 grandchildren they entered their first parade. So, began Vicker Pony Farm and a family affair with draft ponies.

A year later Richard had found a matched 4 up hitch. Then he began going to shows, especially the Boone Draft Pony show and the Iowa State Fair.

When Richard ordered his first hitch wagon from Neal Sesker, Richard stated it was only for giving the grandchildren rides. Neil replied "That's what they all say."

Early on all of the family was gathered at Richard's house for Christmas. One grandchild had a cold and couldn't go out to the ponies so Richard brought a pony named Charlie into the kitchen. This started a tradition that lasted till the grandchildren were grown. When the grandchildren were small they didn't ask for gifts. It was always "What pony do we get to bring in this year." For the record there was no quote accidents unquote.

Ray Kammin really enjoyed making a beautiful set of harness for the ponies. Richard was always very proud of Ray's harness.

At one Iowa State Fair show everyone was lined up when the fireworks started at the grandstand. Roger's Doc pony went straight up in the air and came down on the other side of his mate. Richard says he can still see pony friends jumping the railing and coming to help get things back to normal.

Richard loved taking his ponies to parades and nursing home as well as shows.

Other people's enjoyment of his ponies was Richard's big joy.

At the Iowa State Fair it was Richard's custom to tie all 14 ponies with their heads facing the aisle so visitors could pet them. One evening a blind girl in a wheelchair covered with balloons was wheeled up to a pony named Doc. Ordinarily Doc would back up from strangers but this night he stood like a statue while the girl ran her hands all over his face many times.

The grandchildren rode with grandpa in many shows. When he placed the kids got the credit because they smiled at the judge.

For Richard one of the highlights of his showing career came in 1983 – Ponies from his farm took 1st 2nd and 3rd in the Iowa State Fair 4 up hitch class.

In 1979 Richard began raising registered Welsh ponies which he is still doing but due to health reasons he is no longer able to show them.

All contents and photos are copyrighted © 1996-2010 by Roger Vicker and may not be re-distributed or re-used without permission.